Citation
Edit
Government Accountability Office, 3D Printing: Opportunities, Challenges, and Policy Implications of Additive Manufacturing (GAO-15-505SP) (June 24, 2015) (full-text).
Overview
Edit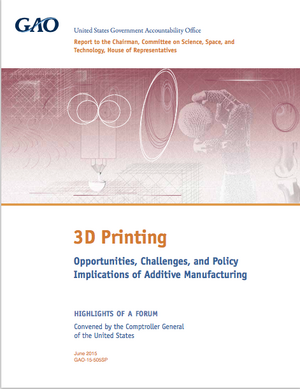 Additive manufacturing has the potential to fundamentally change the production and distribution of goods. Unlike conventional or subtractive manufacturing processes, such as drilling, which create a part by cutting away material, additive manufacturing builds a part using a layer-by-layer process. Additive manufacturing has been used as a design and prototyping tool, but the focus of additive manufacturing is now shifting to the direct production of functional parts — parts that accomplish one or more functions, such as medical implants or aircraft engine parts—that are ready for distribution and sale.
On October 15-16, 2014, the GAO, with the assistance of the National Academies, convened a forum to discuss the use of additive manufacturing to directly produce functional parts, including its (1) opportunities, (2) key challenges, and (3) key considerations for any policy actions that could affect its future use.
Forum participants included officials from government, business, academia, and nongovernmental organizations that were selected to represent a range of viewpoints and backgrounds. This report summarizes the ideas and themes that emerged during the forum and the collective discussions of the forum participants.