As mandated in the Public Health Security and Bioterrorism Preparedness and Response Act of 2002, the Centers for Disease Control and Prevention's (CDC) BioSense Program was launched in 2003 to establish an integrated national public health surveillance system for early detection and rapid assessment of potential bioterrorism-related illness. It was developed and implemented in accordance with data and message standards defined by the PHIN initiative.
BioSense collects electronic data that are voluntarily shared by participating state, local, and other federal public health entities, including data related to infections, injuries, and chronic diseases. Currently the system collects chief complaint data from 570 hospitals and 1,100 federal clinics, and sales data from over 10,000 pharmacies. Because the data and messages are sent and received in standardized formats, the data are integrated into the BioSense system, reducing the need for analysts to manually interpret or manipulate data and are analyzed by the system to enhance the nationwide situational awareness capabilities of public health analysts at CDC.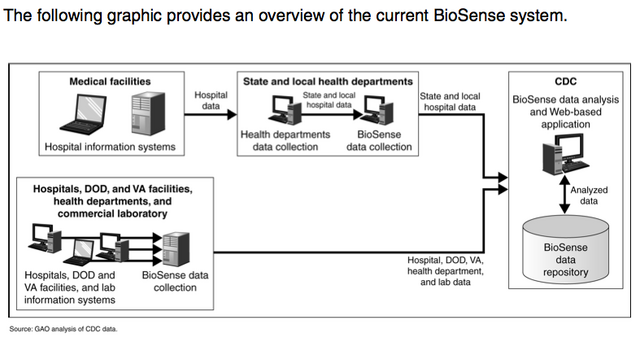 In FY 2010, CDC started redesigning the BioSense Program based on input and guidance from local, state, and federal partners. The goal of the redesign effort is to be able to provide nationwide and regional situational awareness for all-hazard, health-related threats (beyond bioterrorism) and to support national, state, and local responses to those threats. This support was achieved through improved internal contract management, with savings being applied directly to increase funding to support state and local health departments for syndromic surveillance efforts.
By integrating local and state-level information, CDC will provide a timely and cohesive picture at the regional (i.e., multistate) and national levels and improve BioSense's utility. The key components of the BioSense program redesign:
Help build health monitoring infrastructure and workforce capacity where needed at the state, local, tribal, and territorial levels
Facilitate the interchange of information that can be used to coordinate responses and monitor health-related outcomes routinely and during an event
Retain the original purpose of BioSense to detect and characterize events (or health-related threats) early by building on state and local health departments systems and programs
Expand the utility of BioSense data to multi-use [and all-hazard] beyond early event detection and to contribute information for:

public health situational awareness
routine public health practice
improved health outcomes and public health

Improve the ability to detect emergency health-related threats by supporting the enhancement of systems to signal alerts for potential problems
Increasing local and state jurisdictions participation in BioSense
Advances in science and technology.
Community content is available under
CC-BY-SA
unless otherwise noted.