Citation
[
]
Final Report of the National Commission on New Technological Uses of Copyrighted Works (CONTU) (July 31, 1978) (full-text).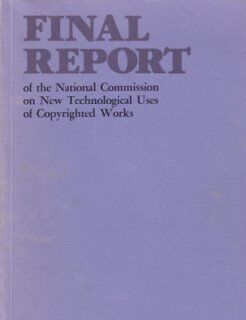 Computer software
[
]
The Final Report of the CONTU Commission (also called the CONTU Final Report) was issued on July 31, 1978. In that Report, the Commission recommended that copyright protection be explicitly extended to computer programs.[1]
The Commission also recognized certain difficulties in applying copyright to software, especially in distinguishing between the copyrightable "expression" in a program and the processes or ideas the program implements, which are not copyrightable. CONTU assumed that most copyright infringements in the then-immediate future would be "simply copying," but recognized that technological advances would raise more difficult questions in determining the scope of copyright..[2] CONTU concluded, however, that these questions should be answered on a case-by-case basis by the federal courts.
Deposit and registration
[
]
The Report included recommendations for regulations concerning the registration and deposit of databases and other works fixed in computer-readable media. These state that the registration and deposit regulations should permit and encourage registration and periodic updating of identifying material rather than the actual databases.
With respect to computer programs, the Report suggests that regulations relating to deposit and registration requirements should "promote public access to computer programs while being flexible enough to accommodate future changes in computer technology. Recognizing that repeated deposit of each version of a program would be burdensome to the program proprietor and the Copyright Office, the Commission set forth a variety of options, including a system of temporary deposit, and permanent deposit of complete copies of the original version of the program with subsequent filing of descriptions rather than complete copies of amended versions.
References
[
]
See also
[
]