Definitions
Edit
Crimeware is
How it works
Edit

Crimeware is a ubiquitous fact of life in modern online interactions. It is distributed via many mechanisms, including:
Once installed, crimeware can be used for financial benefit by the attacker in many ways, including:
Distribution
Edit
Crimeware is distributed in many ways. The various distribution models include distribution leveraging social engineering (attachment, piggybacking), exploit-based distribution via server (web browser exploit, including content injection), exploit-based distribution via infected computer (internet worms), and distribution via human (hacking). Distribution of crimeware may blur these distinctions, such as a social engineering "phishing" attack that directs users to a web site that installs crimeware via a web browser exploit.
Anstomy of a crimeware attack
Edit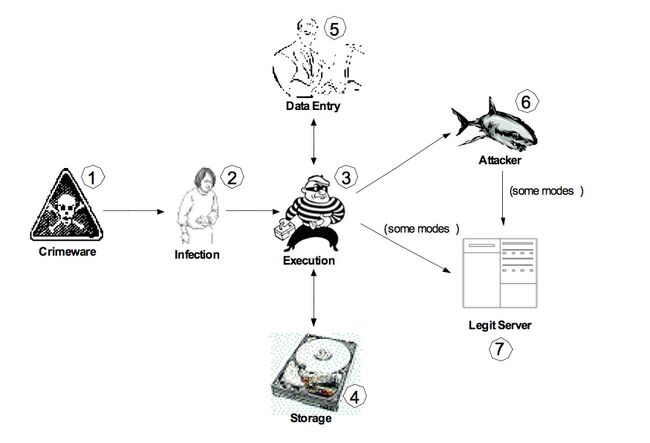 In this diagram, the stages of a crimeware attack are categorized as follows:
See also
Edit
Cite error: <ref> tags exist, but no <references/> tag was found
Community content is available under
CC-BY-SA
unless otherwise noted.