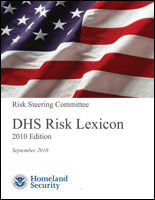 Department of Homeland Security, Risk Steering Committee, DHS Risk Lexicon (Sept. 2010) (full-text).
The DHS Risk Lexicon makes available a common, unambiguous set of official terms and definitions to ease and improve the communication of risk-related issues for DHS and its partners. It facilitates the clear exchange of structured and unstructured data that is essential to the exchange of ideas and information amongst risk practitioners by fostering consistency and uniformity in the usage of risk-related terminology for the Department.
Community content is available under
CC-BY-SA
unless otherwise noted.