Definition
[
]
Electronic prescribing
Overview
[
]
Figure 1 illustrates an example of the flow of information during the electronic prescribing process.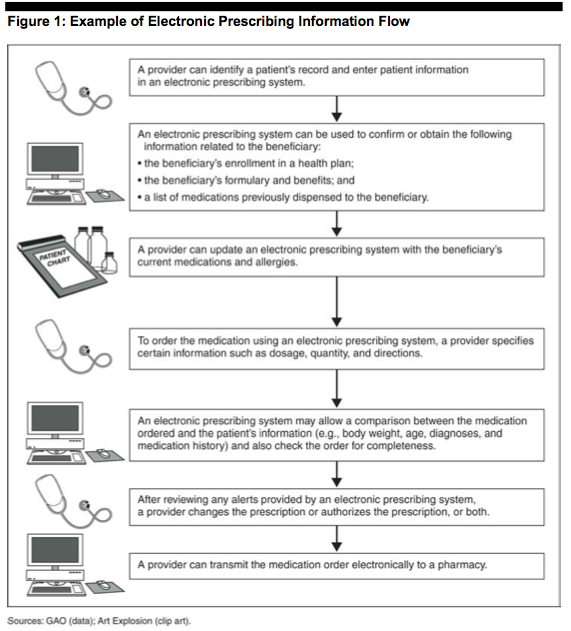 In order to transmit a prescription electronically, multiple entities need to have access to an individual's identifiable health information in an electronic format. Federal laws and regulations dictate the acceptable use and disclosure activities that can be performed with individually identifiable health information, defined as protected health information (PHI). These activities include treatment, payment, health care operations, and — provided certain conditions are met — public health or research purposes.
For example, electronic health information can be held by covered entities that perform treatment functions for directly providing clinical care to a patient through electronic prescribing. These covered entities and business associates, such as medical professionals, pharmacies, health information networks, and pharmacy benefit managers, work together to gather and confirm patients' electronic health information for prescribing, such as a beneficiary's eligibility, formulary, benefits, and medication history. To electronically transmit prescription drug data between a health care provider and a pharmacy, an electronic health record can be used to obtain information about the health of an individual or the care provided by a health practitioner.
References
[
]
Source
[
]