Definitions
[
]
Electronic warfare (EW) is
Overview
[
]
Electronic warfare is a well-established component of contemporary combat not necessarily involved with cyberspace.
The three major subdivisions within electronic warfare are: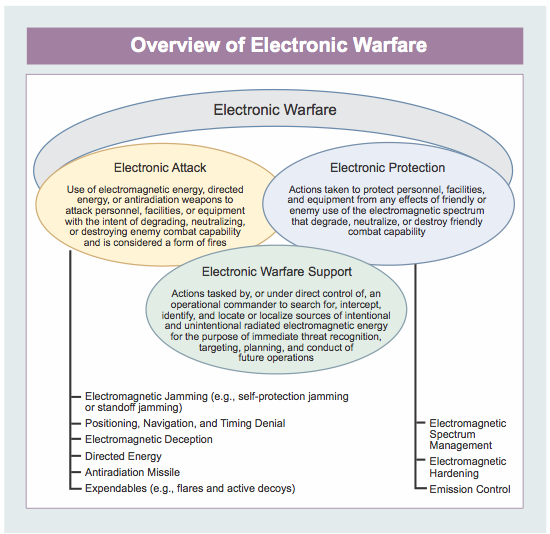 All three contribute to both offensive and defensive information operations. EW is any military action involving the use of electromagnetic and directed energy to control the electromagnetic spectrum or to attack the enemy.
EA involves actions taken to attack the adversary with the intent of degrading, neutralizing, or destroying adversary combat capability to prevent or reduce an adversary's effective use of the electromagnetic spectrum. EA should be employed to attack the enemy according to established principles of warfare. The decision to employ EA should be based not only on overall joint campaign or operation objectives, but also on the risks of possible adversary responses and other potential effects on the campaign or operation.
EP and ES routinely are conducted during peacetime as well as during periods of crisis or conflict.
The Joint Force Commander (JFC) should ensure maximum coordination among EW and other information operations intelligence and communications support activities for maximum effect and to reduce electronic fratricide. This coordination is necessary to ensure effective exchange of information, eliminate undesirable duplication of effort, and provide mutual support.[5]
References
[
]
See also
[
]