Citation
[
]
Department of Homeland Security, Integrated Task Force, Executive Order 13636: Improving Critical Infrastructure Cybersecurity Incentives Study Analytic Report (June 12, 2013) (full-text).
Overview
[
]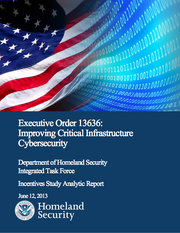 This Executive Order is intended to strengthen the cybersecurity of critical infrastructure by increasing information sharing and by jointly developing and implementing a framework of cybersecurity practices with industry partners.
The Executive Order also:
"Given the absence of comprehensive cybersecurity legislation, some security observers contend that E.O. 13636 is a necessary step in securing vital assets against cyberthreats. Others have expressed the view that the executive order could make enactment of a bill less likely or could lead to government intrusiveness into private-sector activities through increased regulation under existing statutory authority."[2]
References
[
]
See also
[
]