The Federal Cloud Computing Initiative (FCCI) is rooted in ITI LoB which was a government-wide study of end user systems and support, telecommunications, mainframe and server services including optimizing performance, efficiency and effectiveness, and year-over-year comparisons.
Subsequently, the Federal CIO Council identified cloud computing as a Federal IT priority and formed a CIO Working Group, the Cloud Computing Executive Steering Committee (CCESC), in March of 2009. The CCESC leads the Federal Cloud Computing Initiative.
The objective of the FCCI is to make cloud computing services accessible and easy to procure for Federal agencies. The FCCI Executive Steering Committee, Advisory Council, and Working Groups continue to work on identifying and addressing issues and obstacles to successful cloud computing implementation.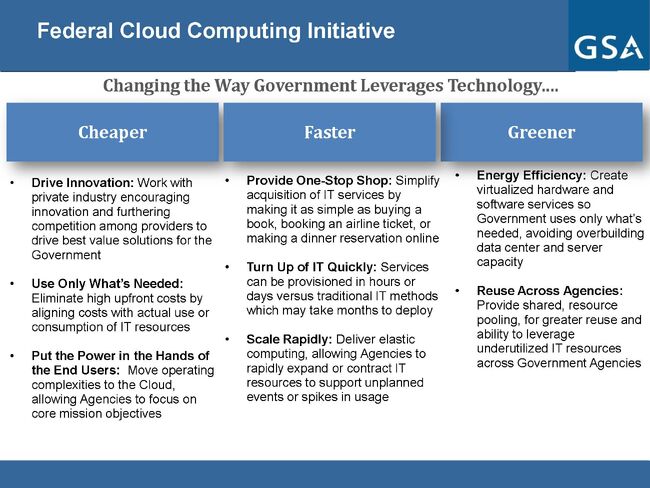 The FCCI has focused on exploring three models in particular. The three models for assessment that have been vetted within government and industry are:
A centralized approach working through a FedRAMP program office;
A federated model using capabilities of multiple approved agency centers; and
Some combination of the above that combines public and private sector partners.
The General Services Administration (GSA) is participating in the Federal Cloud Computing Initiative and is responsible for the coordination of GSA's activities with respect to the Initiative via its Cloud Computing Program Management Office (CC PMO). GSA and the CC PMO are focusing on implementing projects for planning, acquiring, deploying and utilizing cloud computing solutions for the Federal Government that increase operational efficiencies, optimize common services and solutions across organizational boundaries and enable transparent, collaborative and participatory government.
Community content is available under
CC-BY-SA
unless otherwise noted.