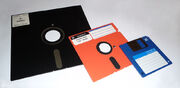 A floppy disk is a data storage medium that is composed of a disk of thin, flexible ("floppy") magnetic storage medium encased in a square or rectangular plastic shell. Floppy disks are read and written by a floppy disk drive or FDD. Invented by IBM, floppy disks in 8-inch (200 mm), 5¼-inch (133⅓ mm), and the newest and most common 3½-inch (90 mm) formats enjoyed many years as a popular and ubiquitous form of data storage and exchange, from the mid-1970s to the late 1990s. However, they have now been largely superseded by flash and optical storage devices while e-mail has become the preferred method of exchanging small to medium size digital files.
Community content is available under
CC-BY-SA
unless otherwise noted.