National Institute of Standards and Technology, 2017 NIST/ITL Cybersecurity Program Annual Report (NIST Special Publication 800-203) (July 2018) (full-text).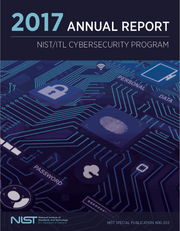 The primary goal of the NIST's Information Technology Laboratory (ITL) Cybersecurity Program, is to provide standards and technology that protects information systems against threats to the confidentiality, integrity, and availability of information and services. During Fiscal Year 2017 (FY 2017 — from October 1, 2016 to September 30, 2017), ITL Cybersecurity Program successfully responded to numerous challenges and opportunities in fulfilling that mission. Through ITL's diverse research agenda and engagement in many national priority initiatives, high-quality, cost-effective security and privacy mechanisms were developed and applied that improved information security across the Federal Government and the greater information security community. This annual report highlights the research agenda and activities in which ITL Cybersecurity Program was engaged during FY 2017.
Community content is available under
CC-BY-SA
unless otherwise noted.