U.S. Department of Transportation, Preparing for the Future of Transportation: Automated Vehicles 3.0 (Oct. 4, 2018) (full-text).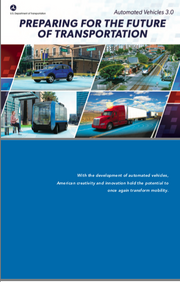 This report builds upon Automated Driving Systems 2.0: A Vision for Safety. AV 3.0 expands the scope to all surface on-road transportation systems, and was developed through the input from a diverse set of stakeholder engagements to provide updated voluntary guidance and policy considerations for a range of industry sectors, including manufacturers and technology developers, infrastructure owners, and operators, commercial motor carriers, bus transit, and State and local governments.
AV 3.0 is structured around three key areas:
Community content is available under
CC-BY-SA
unless otherwise noted.