Citation
[
]
U.S. Department of Homeland Security, Quadrennial Homeland Security Review Report: A Strategic Framework for a Secure Homeland (QHSR) (Feb. 2010) (full-text).
Overview
[
]
The purpose of the first-ever Quadrennial Homeland Security Review was to outline the strategic framework to guide the activities of participants in homeland security toward a common end. A safe and secure homeland must mean more than preventing terrorist attacks from being carried out. It must also ensure that the liberties of all Americans are assured, privacy is protected, and the means by which we interchange with the world — through travel, lawful immigration, trade, commerce, and exchange — are secured.
Among the forces that threaten the United States and its interests are those that blend the lethality and high-tech capabilities of modern weaponry with the power and opportunity of asymmetric tactics such as terrorism and cyber warfare.
Missions
[
]
The Review sets forth five missions, and, in doing so, underscored the importance of cybersecurity to the United States. These missions are the responsibility of the entire homeland security enterprise. Individuals across federal, state, local, tribal, and territorial governments, the private sector, and nongovernmental organizations are engaged in executing these missions. Beyond organizations such as the Department of Homeland Security (DHS) that are officially charged with the cybersecurity mission, responsibility begins with individual computer owners whose machines can be used in malicious attacks, and with the owners and operators of critical infrastructure systems. The roles and responsibilities across the homeland security enterprise for securing cyberspace reflect its size, diversity, and interdependent nature.
Mission 4
[
]
Mission 4 is entitled "Safeguarding and Securing Cyberspace." As noted in the Review:
"
Our economic vitality and national security depend today on a vast array of interdependent and critical networks, systems, services, and resources. We know this interconnected world as cyberspace, and without it we cannot communicate, travel, power our homes, run our economy, or obtain government services. Its benefits are tremendous.

Yet as we migrate ever more of our economic and societal transactions to cyberspace, these benefits come with increasing risk. Not only is cyberspace inherently insecure as built, but as a Nation we face a variety of adversaries who are working day and night to use our dependence on cyberspace against us. Sophisticated cyber criminals and nation-states, among others, are among the actors in cyberspace who now pose great cost and risk both to our economy and national security. They exploit vulnerabilities in cyberspace to steal money and information, and to destroy, disrupt, or threaten the delivery of critical services.

For this reason, safeguarding and securing cyberspace has become one of the homeland security community's most important missions. Our vision is a cyberspace that supports a secure and resilient infrastructure, that enables innovation and prosperity, and that protects privacy and other civil liberties by design. It is one in which we can use cyberspace with confidence to advance our economic interests and maintain national security under all conditions.

We will achieve this vision by focusing on two goals: (1) helping to create a safe, secure, and resilient cyber environment; and (2) promoting cybersecurity knowledge and innovation.[1]

"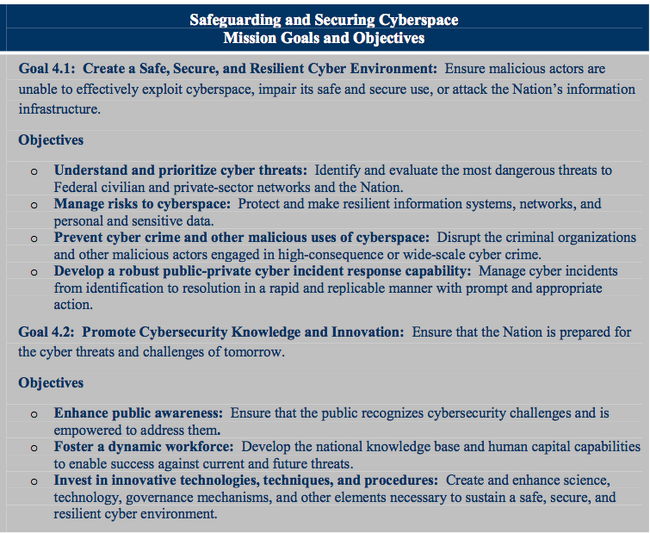 The creation of a mission area in the QHSR to safeguard and secure cyberspace builds on the President's National Security Strategy, which:
The Department of Homeland Security (DHS) has issued a Blueprint for a Secure Cyber Future: The Cybersecurity Strategy for the Homeland Security Enterprise ("Blueprint") to provide a clear plan of action for the homeland security enterprise to implement the National Security Strategy and achieve the goals set forth in the QHSR:
The Blueprint has a single unifying concept:
This strategic concept is intended to drive prioritization of resources in order to systematically build the multiple capabilities needed to achieve QHSR Mission 4 goals.
References
[
]
Source
[
]