Citation
[
]
Sega Enters., Ltd. v. Accolade, Inc., 977 F.2d 1510, 24 U.S.P.Q.2d (BNA) 1561 (9th Cir. 1992) (full-text)
Factual Background
[
]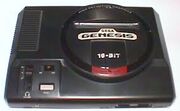 Accolade sought to develop a videogame that would operate on the Sega Genesis videogame system. To do so Accolade had to determine the password required by the Genesis system. The only way to determine the password was to decompile the object code of one of Sega's videogames to produce a translation of the source code. As a necessary step in this reverse engineering procedure, Accolade had to make a copy of the Sega object code. Sega sued Accolade for copyright infringement based on its copying of the object code. The trial court granted Sega a preliminary injunction.
Appellate Court Proceedings
[
]
The Ninth Circuit held that the where reverse engineering is the "only means of gaining access to . . . unprotected aspects of the program,"[1] such copying is a fair use. The Court found that (1) disassembly was necessary to analyze the unprotectable aspects of the program, and (2) Accolade had a legitimate interest in analyzing those aspects of the program to determine how to make its cartridges compatible with the Genesis console.
The first fair use factor favored the defendant, despite its commercial purpose, since the copying was in service of the defendant's own creative work.[2] The court also considered important the public benefit in an increased number of videogame programs.[3] In reaching its decision, the court noted that:
| | | |
| --- | --- | --- |
| " | [W]e are free to consider the public benefit resulting from a particular use notwithstanding the fact that the alleged infringer may gain commercially. Public benefit need not be direct or tangible, but may arise because the challenged use serves a public interest. In the case before us, Accolade's identification of the functional requirements for Genesis compatibility has led to an increase in the number of independently designed video game programs offered for use with the Genesis console. It is precisely this growth in creative expression, based on the dissemination of other creative works and the unprotected ideas contained in those works, that the Copyright Act was intended to promote.[4] | " |
The fourth factor (effect on the market) weighed in favor of the defendant as well, since its copying was part of an effort to become a legitimate competitor.[5] The second factor (nature of the copied work) favored the defendant, since intermediate copying was necessary to analyze the program.[6]
Only the third factor (extent of copying) weighed against Accolade. But, the court wrote, "where the ultimate (as opposed to direct) use is as limited as it was here, the factor is of very little weight."[7] Finally, the court added that "[t]he equitable considerations involved weigh on the side of public access."[8]
The court also stated that "[w]e are in wholehearted agreement with the Second Circuit's recent observation that '[t]hus far, many of the decisions in this area [application of copyright law to software] reflect the courts' attempt to fit the proverbial square peg in a round hole.'"[9]
References
[
]