Sony Corp. of America v. Universal City Studios, Inc., 464 U.S. 417 (1984) (full-text).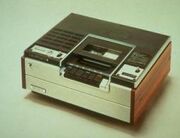 Plaintiffs, several television program producers, sued Sony, the manufacturer of home videotape recording equipment (the Sony Betamax) for contributory copyright infringement for the infringing acts of consumers who used the Sony equipment to make copies of plaintiff's broadcast television programs.
The district court held that non-commercial home taping of a television program from the public airwaves was a fair use. The Ninth Circuit Court of Appeals reversed, holding that defendants were contributory infringers.
The Court reversed the Ninth Circuit, concluding that private, non-commercial home taping for "time-shifting" purposes was a fair use. The Court placed heavy emphasis under the first factor of the fair use analysis on the nature of secondary use. The Court reversed the Ninth Circuit's holding that fair use could not be invoked unless the second author's use of the first author's work was a "productive use," i.e., that the second author created a work of authorship in which he added his own original contribution. Instead, the Court held that the fair use defense is not "rigidly circumscribed" by the productive use requirement.[1]
Looking at the nature of the secondary work, the Court said that "every commercial use of copyrighted material is presumptively an unfair exploitation of the monopoly privilege that belongs to the owner of the copyright."[2] The court found that the immediate use — time-shifting for private home use was a non-commercial, nonprofit activity."[3]
The Court considered the second and third factors briefly, and only in relation to the copying as time-shifting. However, the Court acknowledged that, under ordinary circumstances, the copying of entire works should not be a fair use.[4] On the fourth factor, the Court said that a use that has no demonstrable effect upon the potential market for, or value of, the copyrighted work, need not be prohibited in order to protect the author's incentive to create. Thus, the court held that a challenge to a non-commercial use of a copyrighted work required proof that the particular work was harmful, or that, should it become widespread, it would adversely affect the potential market for the copyrighted work. The Court said that actual proof of harm to the potential market was not necessary, but that it was necessary to show by a preponderance of the evidence that some meaningful likelihood of future harm exists.[5]
Community content is available under
CC-BY-SA
unless otherwise noted.