Citation
Edit
U.S. Department of Defense, Unmanned Systems Integrated Roadmap FY2013-2038 (full-text).
Overview
Edit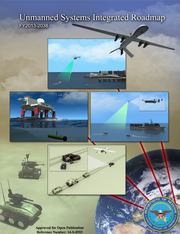 The purpose of this Roadmap is to articulate a vision and strategy for the continued development, production, test, training, operation, and sustainment of unmanned systems technology across DoD. Recent combat operations in Southwest Asia have demonstrated the military utility of unmanned systems in today's combat environment and have resulted in the rapid integration of unmanned technologies into the joint force structure.
This Roadmap establishes a technological vision for the next 25 years and outlines actions and technologies for DoD and industry to pursue to intelligently and affordably align with this vision.